Event Planning Services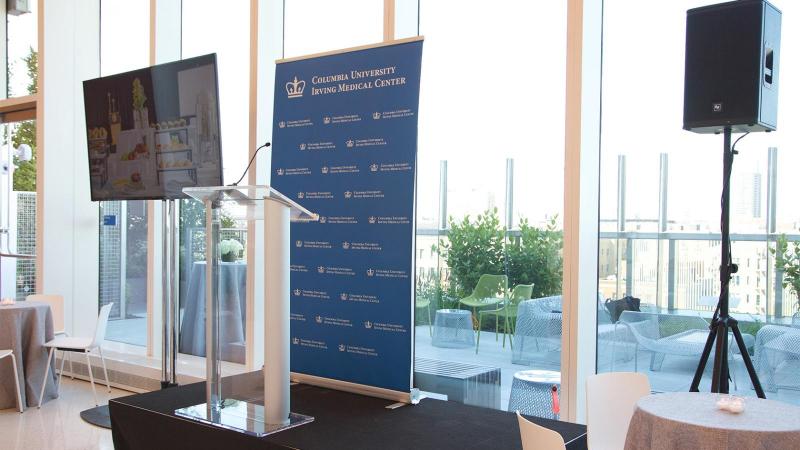 We are a one-stop shop for all your event planning needs. You can rely on us to arrange everything from the look of your event—including furniture, linens, and centerpieces—to audiovisual presentation equipment and entertainment, like a DJ or live band. We've developed relationships with many specialty vendors, whose reliability and product excellence we stand behind.
Audiovisual Services

Whether you require a simple PA system to enhance speeches, or full conference services with a range of equipment, we've got the skills and experience to help you achieve your desired effect.

Audiovisual Services

Podium, microphone, and powered speaker system
Projector, screen, and laptop
HD 75" flat screen TVs
Wireless/lavalier microphone
Polycom
Specialty lighting: ambient lights, spotlights, and pin spotting
Audio technician

Our conference package includes the following:

Podium
Microphone
Projector
Screen
Laptop
One wireless/lavalier microphone
Slide advancer
Powered speakers

Entertainment and Photography

Music Options

Live Music. Our live music options are expansive and limited only by your imagination. Past events have featured student musicians, Spanish guitars, jazz trios, and DJs.
Background Music. If you prefer something more low-key, we can also play prerecorded music in the background to set the mood, based on your musical preferences.

Photography Options

Photography and Videography. We're happy to coordinate an event photographer or videographer to ensure your event is preserved.
Photo booth. For a festive touch, rent a photo booth with us. Photo booths let your guests take group photos and immediately receive copies of the images. Event photos can also be branded with the name of the event, a date, or a special message. Not only will guests have a fun activity to do together, but they'll also come away with souvenirs that feel genuine and personal.

Flower Arrangements

We've teamed up with several local florists to select the right flowers for your event, working within your color scheme and budget. Depending on the quantity needed, we require at least two to three business days to accommodate floral requests.

Our flower arrangement services include:

Table arrangements, such as guest tables, the food table, or the bar
Buffet arrangements
Bouquets and boutonnieres for special events
Specialty flowers
Potted plants

Furniture and Linen Rentals

Through our partnerships, we provide a selection of products ranging from basic to lavish and from classic to contemporary.

Our house linens are a standard cotton blend available in a variety of colors. You can also choose specialty linens, such as shimmery, textured, or patterned fabrics.

Below is a rundown of commonly requested services:

Pipe and Drape

Dais drapes (16'H x40'W)
Individual window drapes: Lounge (20'H x 6'W)
Staging area drapes (16'H x 30'W)


Stages

8'x4' stage
4'x4' stage
Skirting for stage (black)


Specialty Furniture for Dais

Leather arm chairs
Panel tables and chairs
Coffee/side tables


Poster Boards

Double-sided display poster boards (5'H x 3'W) on 3' Stands. (These are the perfect size for research poster presentations.)

Event Set-Up and Clean-Up

When it comes to planning a memorable and successful event, logistics are key. We'll work with you to make sure that on the day of your event, all appropriate departments are well-informed of your set-up and clean-up needs.

For events in our spaces, we handle all planning for set-up and clean-up.

For other spaces, our event support varies based on the size and type of your event. Facilities offers an extensive list of services to help you.

We can connect you with the following services and work out the little details on your behalf:

Preparing the space. This can include removing and storing existing furniture and requesting laborers. Preparation varies based on the location, but our knowledge of campus spaces means we'll coordinate it effectively.
Furniture rental and room set-up. When your guests first enter, they'll be transported to an elegant experience—because we'll have already set up linens, centerpieces, furniture, decorations, and even music.
Custodial support during the event. Custodial support is essential to ensure that trash receptacles are set up and regularly emptied, and restrooms kept spotless. The type of support varies based on your location and number of guests.
Clean-up. At the end of the night, we'll restore the room to its original condition.
To work with us, get started with our catering form and check off the services you'll need.