Our Team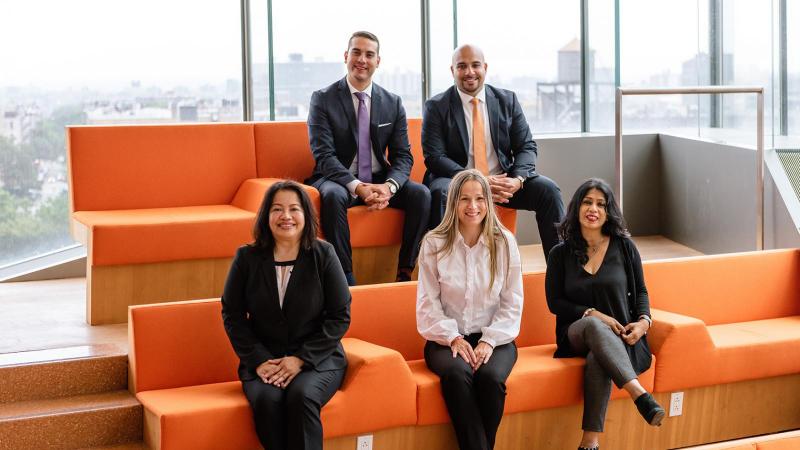 We care about providing you with personal and personable service, refined meals, and excellent experiences. Get to know the members of our team.
Michael Alberto

Since 2009, I have led the Faculty Club at Columbia University Irving Medical Center. My team is known for its personal touch and attention to detail, contributing to more than 5,500 events each year.

I received a bachelor's degree in business administration from Baruch College of the City University of New York, and have more than 15 years of experience in the food and service industry. Previously, I was the catering manager for Columbia University Event Management at the Morningside campus. I credit my experiences there with helping me define my role as CUIMC's "chief experience officer."

As executive director of the Faculty Club, I'm proud to have built a team dedicated to perfecting the customer experience. Together, we have transformed the Faculty Club into a stunning example of elegant cuisine and excellent service.

Honors

CUMC Baton Award Winner, 2015

Jose Gutierrez

Assistant Director of Catering Operations

I was born in Colombia and immigrated to the United States with my family when I was very young. When I was 15, I started working as a busboy at an Irish pub in Queens. I started working as a waiter at Columbia University Catering on the Morningside campus when I was 17, and I've been working for the University ever since.

I began my culinary, bartending, and restaurant training while working at Columbia, and really grew to love the food I served and prepared. Today, I handle the day-to-day of running over 5,000 events each year. This includes anything from walking a client through our extensive event planning process to setting up multiple events for several hundred guests. For me this is not a job, it's a passion. If I had to choose, I would do it all over again!

Erika Perez

I came to the United States more than 10 years ago. Like many immigrants, I worked in the restaurant industry to establish myself. Although this was one of few choices I had then, I quickly realized there is more to this industry than one might expect. We don't just learn about food—we also meet interesting people and learn a lot about the world.

I have been with the Faculty Club for more than three years and am proud to be part of such a great, hard-working group. We cater and host a variety of events, so there is never a dull moment.

While here, I've really fallen for our avocado, artichoke, and hearts of palm salad. Many don't expect anything exciting from a salad, but this dish is fun and healthy. The Bard Lounge architecture also adds flavor to any event. You can't beat the view. And I love hosting holiday parties. Watching everyone let go of the year's stress and enjoy themselves is fantastic.

Ricardo Perez

I grew up a few blocks away from the Washington Heights campus. In 2002, I graduated from Baruch College with a degree in business administration and worked in the financial sector, but I felt out of place.

When I started at the medical center as a server/attendant in 2009, it was my first time working in the catering industry, and I fell in love with the unique pace and flow. It was very gratifying to execute events and wow all my clients.

Today, as banquet manager, I take great pride in our team's efforts. No event is too small to make it great. I will say that my favorite time of year is the holiday season. For us, it's a full-on sprint of celebration the entire month of December. During that time, I enjoy making the dining club space, which I manage, as festive as possible. This is also when we serve my favorite dish: truffle mac 'n cheese.

Sabina Sharmin

Assistant Finance Manager

I joined Columbia University Irving Medical Center in the summer of 2009 and was promoted to assistant finance manager in 2015. My main tasks are accounting- and finance-related; I take care of account receivables, accounts payables, and banking transactions for the dining, catering, and student meal plan services we offer at the Faculty Club.

I have a bachelor's degree in accounting and worked in a manufacturing company's accounting department for nine years before coming to CUIMC.

While working at the Faculty Club, I have tasted many delicious dishes. I especially liked the salmon and grilled shrimp!